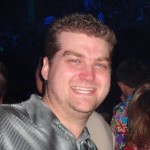 "Who is Danny Burbol?"  Here's the quick recap.
A Quick History
I grew up on the east coast (NY, Georgia, South Carolina).  I moved to the west coast for college and have been on this side of the US ever since.  I went to DigiPen back when it was the only video game school on the continent (they were still in Vancouver, Canada), then got my first video game job as a Software Engineer near Seattle at age 19.  From there I've lived/worked in LA, Santa Monica, San Jose, and San Francisco at various big and small video games companies (Namco, Activision/Shaba, Sega/Secret Level, and Zynga). Then I moved to Las Vegas and work as a Scrum Master for an awesome team making slot machines games.  Currently, my latest adventure is starting an investment company with my bold, intelligent, and gorgeous wife.
I love teamwork.
Some of the bigger projects I've worked on have left me in awe as so many amazing, professional people came together to construct one final product.  I also love my solitary projects since they give me the opportunity to have creative control and wear many hats.  By doing every aspect of a small scale project yourself, you really learn a lot about your teammates at work and appreciate what they do in a new light. Then you look around and say, "Wow, I work with some amazing people!"
I'm attracted to opportunity.
I see opportunity everywhere I look.  I can't help it.  I breath it all in and then try to leave things better than I found them.  I want to build something. I want to learn something. I want to add value to everything I touch.