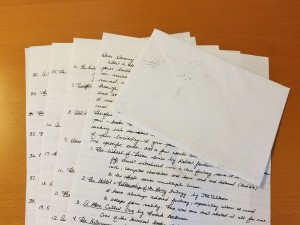 For my birthday this year, I encouraged people to send me a letter.  You know, the kind with actually postage on them.  :)  I didn't specify any topic or length, just something from you to me.  I got quite a few amazing responses including a list of book recommendations from my high school AP English teacher, Mrs. Goodwin.  Since I'm all about sharing book recommendations, here is her list for your pleasure.
Mrs. Amy Goodwin's top 38 book recommendations in honor of Danny Burbol's 38th birthday.
Thank you Mrs. Amy Goodwin for taking the time to put together such a wonderful list and sharing your passion for books with me.
I'm working on a response list of my own top 38 books at age 38.  :)
~Danny