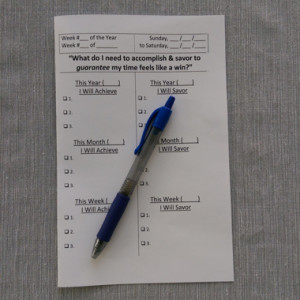 You might remember my post titled Journal Experiments where I shared my thoughts on my daily journal, why I do it, and shared the version of the journal I was using at that time.
I have an updated journal to share.    You can download it from my google drive here.
This is a tool; a workout for you mind. Why do we workout? –because it gets results. Silence the negative whining of the judgmental narrator in your mind. Focus on what you have and what works. Identify the "lucky" accidental success and joy in your life and decide to intentionally seek it out in the future. Set the goals needed to go after what you really want, then raise the bar on them. Set your life up for success daily and savor everything you achieve.
This time around, I made videos to explain why I use it and to walk you through how to use it.
Intro to the Winpower Weekly Journal:
How to print/fold the Winpower Weekly Journal:
How to use the Winpower Weekly Journal: